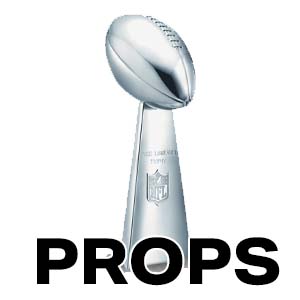 What began as an event to tide over audiences that decided to opt out of midgame concessions and potty breaks has blossomed into a worldwide gambling phenomenon, as Super Bowl halftime prop bets now receive some of the heaviest action during the NFL's final game of the year.
If you'd like to know more about the prop bets for the Super Bowl that are available for the events occurring during halftime, you've found the right place. Read on to discover the best online sportsbooks for Super Bowl 56 halftime show props, what kind of SB odds are offered, and tips for betting site registration.
Best Online Sportsbooks For Super Bowl 56 Halftime Prop Bets
How To Legally Bet On Super Bowl 56 Halftime Show Prop Bets Online
Registering with a legitimate Super Bowl betting site is not necessary to browse the prop bets for the halftime show at SB 56, but placing an actual wager does require becoming a member. Simply click on one of the links in the table we've provided above and locate the join button on the homepage.
The next page will ask for your info to create an account. Once completed, you'll be taken to the deposit page where you'll encounter several sportsbook banking options. We suggest betting with Bitcoin (BTC) or another supported cryptocurrency because of crypto's expedient transaction times and robust bonus offers.
Once you've made your deposit, you can direct your browser toward the NFL section and discover hundreds of Super Bowl prop bets that appear for each year's pro football championship game, including coin toss props, MVP props, odds for the National Anthem performance, and the opportunity to bet on SB commercials.
Halftime Prop Bets: Super Bowl LVI
Super Bowl 56's halftime show will offer something for fans of rap music both old and new as Dr. Dre, Snoop Dogg, Eminem, Kendrick Lamar, and Mary J. Blige will perform several of their hits, and one can only imagine the special guests that could potentially turn up for a verse.
A majority of the action placed on the Super Bowl halftime show each year involves the performance itself. While Dr. Dre and company are expected to inspire a glut of Super Bowl prop bets on their setlist, odds have yet to debut.

We'll post those Super Bowl LVI halftime show odds below once they appear, but for now, props for The Weeknd's Super Bowl 55 halftime show performance are listed as a reference.
Halftime Prop Bets For Super Bowl 56
Bovada
All Five Artists To Collaborate Together For A Song?
Eminem's First Song?
Lose Yourself +275
My Name Is +300
The Real Slim Shady +300
Without Me +350
Stan +600
Number Of Songs Performed
Over 7.5 -140
Under 7.5 EVEN
Snoop Dogg To Smoke On Stage?
Who Will Sing First?
Mary J Blige +175
Kendrick Lamar +250
Snoop Dog +350
Dr Dre +500
Eminem +600
Will Eminem Make A Political Statement?
Will A Brand New Song Be Performed?
MyBookie
Who Will Sing First In The Halftime Show?
Mary J Blige +150
Kendrick Lamar +200
Snoop Dogg +300
Eminem +450
Dr. Dre +500
All Five Artists Collaborate Together For A Song
Eminem's First Song
My Name Is +250
The Real Slim Shady +300
Lose Yourself +300
Without Me +400
Stan +550
Will Eminem & Dr. Dre Perform "Dr. Dre – Forgot About Dre?"
Snoop Dogg Smokes On Stage
Martha Stewart Appears On Stage With Snoop Dogg
Super Bowl Halftime Show Controversies
During the Super Bowl 38 half time show, Janet Jackson performed the song "Rock Your Body" with special guest Justin Timberlake. As the final words of the song were uttered, Timberlake ripped Jackson's blouse off to reveal her left breast.
The camera quickly cut away, and replays revealed the presence of a pastie over Jackson's nipple, but the damage was done. The NFL could not afford to allow another slip up again, and now has a tight reign on all Super Bowl halftime performance agendas.
During Super Bowl 46, rapper M.I.A. shot a middle finger while on camera during her halftime show cameo appearance. The NFL then sued M.I.A. for $16 million dollars in a lawsuit that was later settled out of court. The message is clear. Do not do anything unplanned during the Super Bowl halftime show or you'll pay.
List Of Super Bowl Halftime Show Performers
Super Bowl 56 – Dr. Dre, Snoop Dogg, Eminem, Kendrick Lamar, Mary J. Blige
Super Bowl 55 – The Weeknd
Super Bowl 54 – Jennifer Lopez (J Lo) and Shakira
Super Bowl 53 – Maroon 5, with Big Boi and Travis Scott
Super Bowl 52 – Justin Timberlake
Super Bowl 51 – Lady Gaga
Super Bowl 50 – Coldplay, with Beyonce, Bruno Mars, Mark Ronson, and Gustavo Dudamel
Super Bowl 49 – Katy Perry, with Lenny Kravitz and Missy Elliot
Super Bowl 48 – Bruno Mars, with the Red Hot Chili Peppers
Super Bowl 47 – Beyonce, with Destiny's Child
Super Bowl 46 – Madonna, with LMFAO, Nicki Minaj, M.I.A., Cee Lo Green, Andy Lewis, and Cirqu du Soliel
Super Bowl 45 – The Black Eyed Peas, with Usher, and Slash
Super Bowl 44 – The Who
Super Bowl 43 – Bruce Springstein
Super Bowl 42 – Tom Petty
Super Bowl 41 – Prince
Super Bowl 40 – The Rolling Stones
Super Bowl 39 – Paul McCartney
Super Bowl 38 – Jessica Simpson, with Janet Jackson, Justin Timberlake, P. Diddy, Nelly, and Kid Rock
Super Bowl 37 – Shania Twain, with No Doubt, and Sting
Super Bowl 36 – U2
Super Bowl 35 – Aerosmith, with NSYNC, Britney Spears, Mary J. Blige, and Nelly
Super Bowl 34 – Phil Collins, with Toni Braxton, Christina Aguilera, and Enrique Iglesias
Super Bowl 33 – Gloria Estefan, with Stevie Wonder
Super Bowl 32 – Boyz II Men, with Smokey Robinson, The Temptations, Queen Latifah, and Martha Reeves
Super Bowl 31 – James Brown, ZZ Top, The Blues Brothers
Super Bowl 30 – Diana Ross
Super Bowl 29 – Patti Labelle, Teddy Pendergrass, Miami Sound Machine, Tony Bennett, Arturo Sandoval
Super Bowl 28 – Clint Black, with Tanya Tucker, Travis Tritt, and the Judds
Super Bowl 27 – Michael Jackson
Super Bowl 26 – Gloria Estefan
Super Bowl 25 – New Kids on the Block
Super Bowl 24 – Pete Fountain, Doug Kershaw, Irma Thomas, and Nicholls State
Super Bowl 23 – Elvis Presto
Super Bowl 22 – Chubby Checker, with the Rockettes
Super Bowl 21 – George Burns and Mickey Rooney
Super Bowl 20 – Up With People
Super Bowl 19 – Tops In Blue
Super Bowl 18 – The Florida State University (FSU) and University of Florida Marching Bands
Super Bowl 17 – Los Angeles Super Bowl Drill Team
Super Bowl 16 – Up With People
Super Bowl 15 – Southern University Marching Band
Super Bowl 14 – Up With People, with the Grambling State University Marching Band
Super Bowl 13 – Ken Hamilton, with several bands from the Caribbean islands
Super Bowl 12 – Pete Fountain and Al Hirt with the Apache Band
Super Bowl 11 – Los Angeles Unified All-City Band
Super Bowl 10 – Up With People
Super Bowl 9 – Mercer Ellington with the Grambling State University Marching Band
Super Bowl 8 – The University of Texas Longhorn Band
Super Bowl 7 – Woody Herman and Andy Williams with the University of Michigan Marching Band
Super Bowl 6 – Ella Fitzgerald, Al Hirt, Carol Channing
Super Bowl 5 – Southeast Missouri State Marching Band
Super Bowl 4 – Doc Sevennsen, Al Hirt, Lionel Hampton, Carol Channing, Marguerite Piazza
Super Bowl 3 – Florida A&M University Marching Band
Super Bowl 2 – Grambling State University Marching Band
Super Bowl 1 – Al Hirt and several marching bands