Legal Super Bowl Betting Using MatchPay
There's only one Super Bowl, and the highlight of the NFL season also happens to be the highlight of the sports betting season worldwide. That's why MatchPay Super Bowl betting is such a revelation. MatchPay is one of the most convenient, versatile ways to wager on the big game, and it's exclusive to Bovada Sportsbook. Remember, more cash is bet on the Super Bowl than any other single game, but you can't bet unless you actually have money in your betting account.
Unlike Super Bowl betting vouchers, MatchPay requires very little legwork on the part of the bettor. The system is fully automated. All you have to do is sign up for the third-party MatchPay service right from your sportsbook cashier page, and you can make deposits and receive payouts with otherwise unavailable P2P options like PayPal, Venmo, Cash App, and more. Read on to find out if MatchPay betting is a good match for you!
Bovada NFL Sportsbook – Bet On The Super Bowl With The Exclusive MatchPay Gambling Option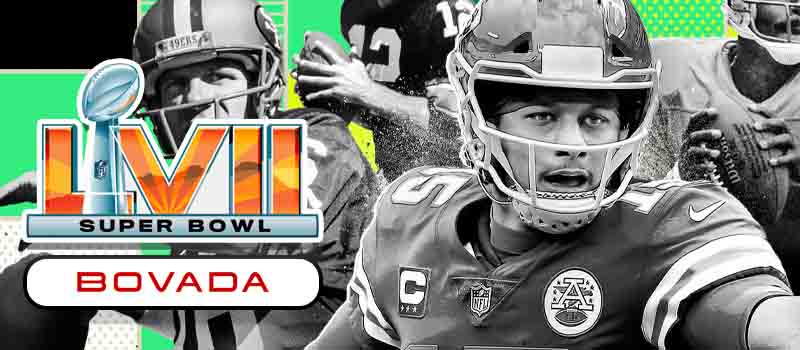 Bovada Sportsbook is one of the best online gambling sites for betting on the Super Bowl. With over 1000 Super Bowl prop bets on hand, Bovada makes the best Las Vegas sportsbooks look like amateur hour.
In addition to Super Bowl props and Super Bowl futures available year-round, Bovada also has a custom prop builder tool that adds countless permutations and parlays to your Super Bowl betting slip. Best of all, mobile sports betting at Bovada gives you access to everything the desktop version offers.
Add to that the site's top-rated real-money online casino, poker room, and racebook, and you've got an all-in-one package that more than makes the cut. And now that Bovada MatchPay is available, players have more ways to deposit and withdraw than ever before.
Super Bowl Sign-Up Bonus: 50% Sports Welcome Bonus Up To $1,000
Deposit Methods: Bitcoin, Bitcoin Cash, Bitcoin SV, Zelle, Litecoin, Ethereum, USDT, MatchPay, and Sportsbook Vouchers
What Is MatchPay?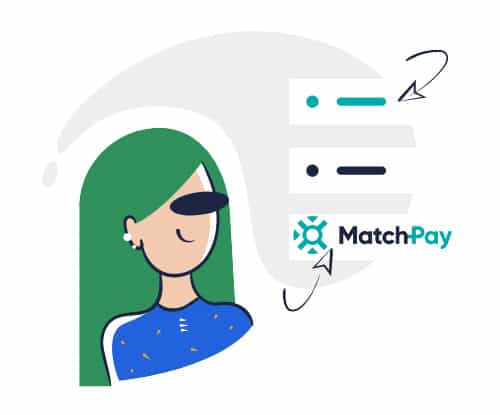 MatchPay is a third-party service that allows members at various online sites to buy and sell their account balances among one another using popular P2P apps and eWallet solutions. While MatchPay is not a gambling-specific product and does not endorse gambling in any way, Bovada has found it useful for allowing its bettors access to otherwise unavailable deposit and withdrawal options.
Remember, most P2P apps and e-Wallet instant-pay services are limited to the United States. In PayPal's case – which is international – overly strict platform controls in line with the UIGEA banking regulation prevent the service from being used by overseas sportsbooks to accept online bet funding deposits and disburse payouts.
Now, however, Bovada members can actually use PayPal, Venmo, Cash App, and other financial networks to make deposits and withdrawals easily, safely, and legally. If you want to learn how to use MatchPay to bet on the Super Bowl – or wager on any other sporting event anywhere on the planet – the following sections explain the MatchPay bet funding process in detail.
How To Use MatchPay To Bet On The Super Bowl
Using MatchPay for legal Super Bowl betting is a simple matter and works in a straightforward manner. The first step is to actually sign up for the service (which you can do right through your participating Super Bowl gambling site's cashier portal).
Once that's done, you're officially a MatchPay Trader, which means you can now be automatically paired with other site members who have enrolled in the free MatchPay service.
Then, when you want to make a deposit, it's as simple as selecting the MatchPay betting option, specifying which P2P apps and/or eWallets you currently use, and entering in your desired deposit amount. MatchPay then matches you with another MatchPay Trader and completes the transaction. This process also works the same way for withdrawals.
Because MatchPay relies on private transactions between US-based online bettors, there are no geographical restrictions to worry about. In fact, in most cases, there are no P2P or eWallet fees to worry about, either!
Private transfers between US residents are typically free regardless of the connected service you use, allowing you to put more money into your betting account and pull more money out when it's time to collect.
The step-by-step MatchPay procedure is outlined for both deposits and withdrawals in the next section.
MatchPay Super Bowl Banking Options
MatchPay is used the same way for both online Super Bowl betting deposits and payouts. In either case, of course, you must be both a member at a participating MatchPay partner (in this case, Bovada) and with the MatchPay service itself.
You'll also need an active account with at least one of the P2P/eWallet options MatchPay supports (see below). The more of these services you have access to, the quicker your MatchPay gambling deposits and MatchPay betting payouts will be.
MatchPay Deposits
Before you can use MatchPay for legal online Super Bowl betting this NFL season, you'll need to first sign up at Bovada Sportsbook. Bovada is the premier USA online sports betting site, and even if you have another favorite betting venue, it's a good idea to join Bovada so you can shop Super Bowl odds and lines for the best possible payouts.
Signing up with Bovada is fast and free:
Follow any link here to Bovada LV and click the red "Join" button.
Fill out all required information, taking care to use only your real, verifiable data. Bovada employs strict online security via SSL and TLS, and the site never shares or sells your personal or financial info.
Select the MatchPay deposit option. You can also select an optional Super Bowl bonus at this time.
In the popup window, you'll get access to the MatchPay signup panel. Enter in the requested info, including your email address and mobile phone number. MatchPay sends verification links to each, and you must verify your account through both avenues to activate your MatchPay Trader status.
Once you're a MatchPay Trader, link any supported P2P apps or eWallets you use to your MatchPay account.
Enter in the amount of money you wish to deposit with Bovada MatchPay and submit the form.
Once a MatchPay seller is found, both parties will be prompted within the service to initiate the transaction.
In our experience, most MatchPay Bovada deposits take about 2-3 hours to go through, but this largely depends on current member demand. Remember, MatchPay deposits are possible because other players are looking for MatchPay payouts.
The more members there are actively requesting MatchPay gambling withdrawals, the more rapidly your deposit will be credited to your Bovada betting account. If faster deposits are required, you can opt to use credit, debit, or crypto.
MatchPay Withdrawals
If you're already a MatchPay Trader, payouts are even easier than deposits, as you don't have to go through any additional enrollment steps. If you didn't deposit with MatchPay but wish to use the service to claim an online sports betting payout, simply follow the above MatchPay sign-up steps outlined above.
Once that's done, claiming withdrawals is a piece of cake:
Navigate to the Bovada Cashier page and select the MatchPay option from the withdrawal menu.
Enter your MatchPay username and password into the MatchPay login popup.
Enter in the amount of your eligible account balance you'd like to claim, and be sure to specify your preferred P2P/eWallet service (if you haven't already).
MatchPay will automatically pair you with a Bovada MatchPay depositor, and their money will be transferred to your P2P/eWallet service of choice as soon as both parties confirm the transfer.
MatchPay withdrawals are frequently rated as same-day payouts, though they are not guaranteed to be so. If you need a guaranteed same-day payout to collect your Super Bowl winnings, the fastest payout sports betting sites all support Bitcoin betting withdrawals and various altcoin withdrawals (i.e. Bitcoin Cash, Ethereum, Litecoin, etc.).
Ever since we've been regularly using Bovada MatchPay, we've been able to get same-day payouts about 90% of the time. As with deposits, MatchPay "receiving" speed is dependent on the "sending" demand of fellow site members.
P2P Apps And e-Wallets That Support MatchPay
MatchPay supports a host of popular and widely used P2P instant-pay services and e-Wallet platforms. The current menu includes the following:
Square sportsbook deposits
Again, the more of these you have access to, the smoother your MatchPay transactions will be.
Also, please note that each service has different fee structures. Most offer free private transfers when money is sent from linked debit cards or bank accounts, but all of them charge variable rates when using linked credit cards.
Be sure to keep this in mind when managing your Super Bowl betting bankroll. Football might be the game, but for the seasoned online sports bettor, bankroll management is the name of the game!
How To Place A Super Bowl Bet With Bovada MatchPay
Once you've signed up with Bovada and the MatchPay service, actually placing your Super Bowl wagers is a straight shot to the endzone. Bovada – like all the best online Super Bowl betting sites – has countless different bets you can place on the NFL championship tilt.
These include, but are by no means limited to, the following:
Super Bowl Spread Bets
Super Bowl Straight Moneyline Bets
Super Bowl Over/Under Totals Bets
Super Bowl Game Prop Bets
Super Bowl Broadcast Prop Bets
+ More!
With the addition of the Bovada Prop Builder tool, you can make even more wagers, including Super Bowl parlays, cross-sport parlays, and other types of special bets. You can also buy and sell points on any line that features a handicap, giving you literally tens of thousands of possible wagers at your fingertips. Super Bowl prop betting has never been more immersive!
MatchPay Super Bowl Betting FAQs
Currently, only one major US online Super Bowl betting site features MatchPay support: Bovada Sportsbook.
Of course, given that Bovada is a trendsetter for the industry – and given that MatchPay offers such a convenient and expanded bet funding experience – it's only a matter of time before other major online sports betting sites get onboard with the revolutionary third-party banking service.
Disclaimer: This page about how to use MatchPay to bet on the Super Bowl is for informational purposes only. MatchPay does not endorse this site, any online sportsbook, or any type of gambling entertainment.