Welcome to our legal Super Bowl betting guide. We developed this site to help players from the United States learn about the legalities of betting on the Super Bowl, and what they can and can't do in the eyes of the law. We also offer a preview of Super Bowl 53, betting tips, interesting facts and much more. In addition, you will find our own personal recommendations as to which online sports betting sites are the most reputable that hold legal and legitimate licensing in the industry. We hope you enjoy your stay and find our information useful.
Top Legal Online Sportsbook For US Players
If you are looking to bet on Super Bowl 53, then we highly recommend BetOnline sportsbook. They are one of the most trusted names in online sports betting and offer over 500 betting props for the big game. Plus you can enjoy a
50% bonus up to $1,000
on your first deposit.
Their website is mobile friendly and they offer live wagering during the big game. So if you don't like the way your original bet is going, live betting gives you plenty of options to buy out.
Best Sports Betting Sites For Super Bowl 53
Super Bowl 53 Betting Odds: Rams vs. Patriots
On Feb. 3, the NFC Champion Los Angeles and the AFC Champion New England Patriots will meet in Super Bowl 53 after both teams pulled off road upsets against the No. 1 seeded Saints and Chiefs, respectively.
Tom Brady and the Patriots are currently 3-point favorites to beat the Jared Goff and the Rams and take this year's Lombardi Trophy back Foxborough, MA, but this comes after the Rams opened as a 1-point favorite in the 2019 Super Bowl. For more information on this year's matchup, check out our Super Bowl 53 preview and our predictions for this year's big game.
Bovada has provided the betting line and the odds below reflect the current point spread, money line, and over/under for the 2019 matchup in Super Bowl 53 featuring the Rams and Patriots.
| NFL Team | Point Spread | Money Line | Over/Under |
| --- | --- |
| Los Angeles Rams |   +3.0 (-130) | +120 | O: 58 (-110) |
The Legalities – Is It Legal To Bet On The Super Bowl In The United States?
Throughout this Super Bowl preview piece, we're going to get into the game itself, as in how popular it is and the teams playing there. But before we do all that, we really want to start off speaking about the legality of it. True to the theme of our resource site here, we want to make legal sports betting the is the center of the focus for Super Bowl 53, and we want to discuss your options for betting, including looking at states where you can legally bet on Super Bowl 53.
To start, let's cover the legality of it. Many people just want to know is betting on the Super Bowl illegal. Is there some exception made for betting on the Super Bowl that's not made for other sports? Unfortunately, no; domestic sports betting is considered to be illegal (to offer) in the majority of the United States. Some states such as Mississippi, New Jersey, Pennsylvania, New York, Rhode Island, West Virginia, Nevada, Oregon, and Montana already have enacted sports betting laws or were grandfathered in under PASPA. These states are not allowed to offer sports betting online to neighboring states, so where do you go to bet on Super Bowl 53?
The best legal option is to go to an offshore betting site. In short, an offshore site is a website that's located outside of America's jurisdiction and thus is not beholden to the laws of the USA. Since America doesn't have any laws that prevent you from betting, only laws that prevent people from offering the bets to you, you're completely free to sign up with an offshore sportsbook and to bet as much on the game as you want, as many times as you want. So in terms of personal gambling choices, it's completely legal for you to bet as an American on the Super Bowl. Now, if you wanted to create a sportsbook just for Super Bowl action in America, you'd likely end up in jail.
Actually, there was a great article on Espn recently that said 65% of all football fans are in favor of legalizing and regulating sports betting.
Your Keys to Finding a Trustworthy Betting Site
So, you know now to find an offshore site on which to bet, but how do you go about finding one that's worthy of your time and money? Needless to say, not all sportsbooks offshore are the same. Some are going to have different line types. Some won't offer lucrative bonuses. Some may take a while to get your money in and out through their slow banking. While some will simply stand out as superior. Let's give you a few tips on what to look for in a winning sportsbook. Before you put any type of money on the Super Bowl, you first need to find the right website. You should be looking for a site that offers:
A great reputation, first and foremost, which can be gleaned from a site's social media presence and how it's received in general online
A lucrative bonus that entices you to join up by offering you some free money on the back end
A lot of line options; although you're looking to bet on the Super Bowl, you may still want to stick around and bet on other sports
Fast-loading, attractive software that hopefully offers you some streaming options for some games
The right banking options for your current preference; e.g. Bitcoin, PayPal, working credit card options, etc
A strong sense of security so you know that your account is always going to be safe
A site that's approved by us here at Legal Online Sports Betting. We'll run through these sites and review them thoroughly, and we will point you in the direction of a site that's good from top to bottom
Super Bowl Betting Tips
Before we wrap up here, we want to give you a few quick and simple tips for betting on the Super Bowl. Again, you don't have to take our word for anything here. But we want you to win money while betting. The more you win, the better it looks for us as a betting resource site. So, here are a few things to keep in mind while betting:
Do not over-extend yourself; keep your bets relatively small and manageable
Research each team before betting, look at injury reports, weather conditions, and even see if you can find some practice footage (e.g. seeing if Brady is throwing the ball better may weigh in your decision)
Trust only the best sportsbooks out there; in fact, follow our lead and go with one we recommend
Don't get carried away in prop betting or bet on every aspect of the game. Keep things contained to the bets you have researched
Do not bet as a fan. Never bet as a fan. Don't bet on the Pats just because you hate Matt Ryan, or vice versa. This is a surefire way to lose
Information About Super Bowl Sunday
Super Bowl 53: Los Angeles Ram vs. New England Patriots
Date: February 3rd
Air Time: 6:30 pm
TV Channel: NBC
Location: Mercedes-Benz Stadium, Atlanta
Half Time Show: Maroon 5, Travis Scott, & Big Boi
Cost For 30 Second Commercial During Super Bowl: $5 million +
Who Won Super Bowl 2018?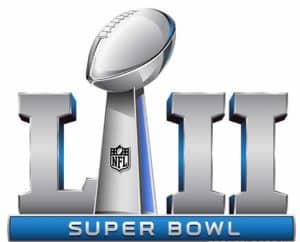 The Philadelphia Eagles are your 2018 NFL Champions, clinching their first ever title with a resounding 41-33 win over the New England Patriots. Most people saw this game as being close, and they were not wrong. Philadelphia got out to an early lead and maintained it for most of the game, but comebacks are New England's specialty. Fans were treated to one of the most competitive Super Bowls in history and got to see the underdogs win.
The first quarter saw a pair of field goals with each team's opening drive. While there were no touchdowns, it was foreshadowing how each team would be able to move down the field into scoring position. Eagles' QB Nick Foles linked up with WR Alshon Jeffery for the game's first touchdown. K Jake Elliot missed the extra point to keep things at 9-3 for the first quarter.
Philly's defensive strategy seemed to be working. They were throwing 5 pass rushers on Brady and forcing him to make quick decisions. You could see its effects in replays where it showed open receivers downfield. Brady was simply unable to find them quick enough. K Stephen Gostkowski attempted a 26-yard field goal to bring things closer, but he nailed the upright after having to adjust midstride because of a faulty snap. New England's problems grew when deep-threat WR Brandin Cooks left the game with a head injury of a brutal (but clean) hit. Cooks would not return to the game, depleting their offense of one of their best players.
New England went for a trick play that saw WR Danny Amendola throw a pass to a wide open Tom Brady, but the ball went right through Brady's fingers. He attempted to hit Gronk on fourth down but the play was broken up, resulting in a turnover on downs. Eagles' RB LeGarrette Blount bulldozed his way into the end zone to put Philly up 15-3. They attempted to go for 2 to spread the point differential, but The Eagles couldn't execute. The Pats settled for a field goal after being smothered by the Eagles' defense.
The Eagles drove down the field again and looked ready to score, but New England managed to intercept the ball off a tipped pass. That drive turned into a touchdown via RB James White, who also had a bullish run into enemy territory to put his team back into it. Gostkowski's woes continued with a shanked extra point. Philly was quick to answer on a very successful drive that saw RB Corey Clement push the ball into the Pats' red zone. After a series of unsuccessful plays, the Eagles executed a trick play pass to Foles on fourth down to score before halftime. The Eagles led 22-12 when the teams retreated to the locker rooms.
Philly's defense seemed to back off a bit in the third, which led to the Patriots scoring a touchdown through TE Rob Gronkowski. It's a good think Gronk was cleared to play, as he was instrumental in their offense. Gostowski finally came through and scored the extra point. The Eagles utilized Clement again on the next drive, but this time he scored on an incredible catch in double coverage. After review, the ruling stood and the Eagles were back up by 10 (29-19). Brady continued to take advantage of the lax pressure on the subsequent drive and connected with veteran WR Chris Hogan for a touchdown.
The fourth quarter began with a Philly field goal and made the score 32-26. It seemed as if this would turn into the typical New England game where they come back and take the lead. That's exactly what happened when they scored again through Gronkowski. Gronk had several catches during that drive and capped it off with an athletic catch over a smaller defender. At 33-32 Patriots, it was now the Eagles' turn to come from behind.
Philadelphia was unable to convert on a poor third down call and everyone expected a punt with 5:30 minutes left, but coach Doug Pederson continued his gutsy play calling and decided to go for it. TE Zach Ertz converted and then went on to score a touchdown several plays later. Ertz' touchdown was reviewed because he bobbled the catch on the ground, but the refs determined he had broken the plane while in control of the ball.
New England took over down 38-33 and just over 2 minutes to go. Before Brady had a chance to get another miracle drive going, the Eagles pass rush came back and forced a turnover. Philly made the safe call to run the clock down with several plays, but they didn't put the drive entirely to waste. They scored another field goal to extend their lead to 41.
The Patriots had one last chance to drive down the field and score a 2-point conversion. A terrible punt return downed them inside their own 10. They were able to move down a bit due to the focus of the coverage being on receivers, but these completions were short. Time expired as Brady threw up a deep ball to Gronkowski, but there were too many Eagles in the area and the ball was knocked down. There would not be a fourth-quarter comeback this year.
The Philadelphia bench stormed the field as the Patriots made their way to the locker room. For Foles, who thought about retiring and is now the Super Bowl MVP, this game was magnificent. The Eagles played well in each facet of the game against the league's toughest opponent. This Philly team may be around for a while, so don't be surprised to see them back next year.