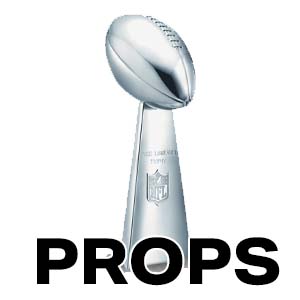 The Most Valuable Player award is given to the Super Bowl's top player, earning them legendary status, a bonus check, and a brand-new car to go along with their NFL Championship. Because the big game's top player is always sure to draw the most attention, so do the Super Bowl MVP prop bets that populate the top NFL betting sites on the web.
The realm of Super Bowl propistion bets is ever-expanding, but SB MVP odds are unique in that they are considered propositions as well as SB futures. Learn about how legal Super Bowl MVP prop bets work, how they can be legally bet upon, and much more, by taking in the rest of this page.
Best Online Sportsbooks Offering Super Bowl 56 MVP Prop Bets
---
What Are SB MVP Prop Bets?
MVP prop bets for the Super Bowl ask bettors to select which competitor they believe will be selected as the big game's most valuable player from a field of contenders. These odds may seem similar to futures betting lines because that's exactly what they are, but because they do not involve team-based results, they are also considered a SB proposition bet just like odds for the coin toss, or Super Bowl commercial props.
When Should I Bet On Super Bowl MVP Props?
How and when you bet on Super Bowl MVP odds depend on how much betting you intend to do over the course of the game. MVP odds cash in after the game is over, so set aside a couple dollars to wager with and don't spend it all on halftime show props and SB National Anthem performance odds that cash in earlier in the game.
Because these proposition bets on the Super Bowl MVP are live until the winner is announced near the end of the broadcast, patrons can lay some action on these odds at any time until that very moment. As the game progresses, these odds will shrink because top performers will be more obvious, so placing your bets earlier is suggested if you want to earn the maximum possible pay day.
How To Bet On SB MVP Props
The MVP of the Super Bowl is declared after the conclusion of the game, so they are some of the final SB prop bets to receive action. This allows bets to be placed on SB MVP odds throughout the entire game, just like the way in-game, or live betting works.
All that is required of the bettor is to select the athlete that they believe will win the Most Valuable Player award. The money line odds placed next to each player's name represents their chances of winning the award and also lets bettors know how much they can win vs. how much they'll have to risk.
If Tom Brady has +550 odds to win the MVP of the next Super Bowl, that means that $5.50 can be won for each $1 bet on him if the becomes Most Valuable Player.
If a player is featured in the negative odds, then the money line is the number that needs to be wagered to win $100. For example, -220 odds require a wager of $220 to earn $100 on a successful outcome.
Current Odds For The Super Bowl 56 MVP Winner
Patrick Mahomes +275
Aaron Rodgers +275
Josh Allen +450
Tom Brady +550
Travis Kelce +1800
Tyreek Hill +1800
Davante Adams +1800
Stefon Digs +2200
Aaron Jones +2800
Tyrann Mathieu +4000
Za'Darius Smith +5000
Clyde Edwards-Helaire +6600
Ronald Jones II +6600
Jaire Alexander +6600
Devin White +6000
Chris Godwin +6600
Rob Gronkowski +12500
Mike Evans +5000
Leonard Fournette +6600
Tre'Davious White +10000
Antonio Brown +10000
Cole Beasley +10000
Who Will The Super Bowl MVP Mention First In His Speech?
Teammates -120
God Or Jesus +200
City +650
Coach +1000
Owner +1600
Family Or Family Members +550
Does Not Mention Any Of The Above +1000
How to Legally Bet on Who Will Be the MVP for Super Bowl 56
As long as you are placing your bet at a domestic or online sportsbook that is operating legally within the industry, then you are not violating any US gambling laws. The sports betting sites listed on this page are all operating legitimately online within jurisdictions that have expressly legalized sports betting. They are also each in possession of legal regulatory credentials or are owned and operated by a parent company that holds licensing on their behalf.
Super Bowl MVP Trivia
Chuck Howley, Dallas Cowboys linebacker, is the only player to become the Super Bowl MVP as a member of the losing team. (Super Bowl V)
The winning quarterback wins the SB MVP most of the time. They have won it 30 out of 54 times (56%).
Bart Starr and Terry Bradshaw are the only players to win the Super Bowl MVP trophy in consecutive years.
Most All Time Super Bowl MVP Leaders
4 – Tom Brady, New England Patriots QB (XXXVI, XXXVIII, XLIX, LI)
3 – Joe Montana, San Francisco 49ers QB (XVI, XIX, XXIV)
2 – Bart Starr, Green Bay Packers QB (I, II)
2 – Terry Bradshaw, Pittsburgh Steelers QB (XIII, XIV)
2 – Eli Manning, New York Giants QB (XLII, XLVI)
Super Bowl MVP Winners By Position
Quarterback – 30
Running Back – 7
Wide Receiver – 7
Linebacker – 4
Defensive End – 2
Safety – 2
Cornerback – 1
Defensive Tackle – 1
Kick Returner – 1
Super Bowl MVP History
| | | |
| --- | --- | --- |
| Super Bowl LV | Tom Brady, Tampa Bay Buccaneers QB | 201 Yards, 3 TDs |
| Super Bowl LIV | Patrickn Mahomes, Kansas City Chiefs QB | 286 Yards, 2 TDs |
| Super Bowl LIII | Julian Edelman, New England Patriots WR | 10 Catches, 141 Yards |
| Super Bowl LII | Nick Foles, Philadelphia Eagles QB | 373 Yards, 4 TD (1 Rec.) |
| Super Bowl LI | Tom Brady, New England Patriots QB | 466 Yards, 2 TDs |
| Super Bowl L | Von Miller, Denver Broncos LB | 6 Tackles, 2.5 Sacks, 1 PD |
| Super Bowl XLIX | Tom Brady, New England Patriots QB | 328 Yards, 4 TDs |
| Super Bowl XLVIII | Malcolm Smith, Seattle Seahawks LB | 10 Tackles, FR, 1 Int (TD) |
| Super Bowl XLVII | Joe Flacco, Baltimore Ravens QB | 287 Yards, 3 TDs |
| Super Bowl XLVI | Eli Manning, New York Giants QB | 296 Yards, 1 TD |
| Super Bowl XLV | Aaron Rodgers, Green Bay Packers QB | 304 Yards, 3 TDs |
| Super Bowl XLIV | Drew Brees, New Orleans Saints QB | 288 Yards, 2 TDs |
| Super Bowl XLIII | Santonio Homes, Pittsburgh Steelers WR | 9 Catches, 131 Yds, 1 TD |
| Super Bowl XLII | Eli Manning, New York Giants QB | 255 Yards, 2 TDs |
| Super Bowl XLI | Peyton Manning, Indianapolis Colts QB | 247 Yards, 1 TD |
| Super Bowl XL | Hines Ward, Pittsburgh Steelers WR | 5 Catches, 123 Yards, 1 TD |
| Super Bowl XXXIX | Deion Branch, New England Patriots WR | 11 Catches, 133 Yards |
| Super Bowl XXXVIII | Tom Brady, New England Patriots QB | 354 Yds, 3 TDs |
| Super Bowl XXXVII | Dexter Jackson, Tampa Bay DB | 2 Interceptions |
| Super Bowl XXXVI | Tom Brady, New England Patriots QB | 145 Yards, 1 TD |
| Super Bowl XXXV | Ray Lewis, Baltimore Ravens LB | 3 Solo Tackles, 2 Assists |
| Super Bowl XXXIV | Kurt Warner, St. Louis Rams QB | 414 Yards, 2 TDs |
| Super Bowl XXXIII | John Elway, Denver Broncos QB | 336 Yards, 1 TD |
| Super Bowl XXXII | Terrell Davis, Denver Broncos RB | 157 Yards, 3 TDs |
| Super Bowl XXXII | Desmond Howard, Green Bay Kick Returner | 99-Yard Kickoff Return TD |
| Super Bowl XXX | Larry Brown, Dallas Cowboys DB | 2 Interceptions |
| Super Bowl XXXIX | Steve Young, San Francisco 49ers QB | 325 Yards, 6 TDs |
| Super Bowl XXIX | Emmitt Smith, Dallas Cowboys RB | 132 Yards, 2 TDs |
| Super Bowl XXVII | Troy Aikman, Dallas Cowboys QB | 273 Yards, 4 TDs |
| Super Bowl XXVI | Mark Rypien, Washington Redskins QB | 292 Yards, 2 TDs |
| Super Bowl XXV | Ottis Anderson, New York Giants RB | 102 Yards, 1 TD |
| Super Bowl XXIV | Joe Montana, San Francisco 49ers QB | 297 Yards, 5 TD |
| Super Bowl XXIII | Jerry Rice, San Francisco 49ers WR | 11 Catches, 215 Yards, 1 TD |
| Super Bowl XXII | Doug Williams, Washington Redskins QB | 340 Yards, 4 TDs |
| Super Bowl XXI | Phil Simms, New York Giants QB | 268 Yards, 3 TDs |
| Super Bowl XX | Richard Dent, Chicago Bears DE | 2 Sacks, 2 FFs |
| Super Bowl XIX | Joe Montana, San Francisco 49ers WB | 331 Yards, 3 TDs |
| Super Bowl XVIII | Marcus Allen, Los Angeles Raiders RB | 191 Yards, 2 TDs |
| Super Bowl XVII | John Riggins, Washington Redskins RB | 166 Yards, 1 TD |
| Super Bowl XVI | Joe Montana, San Francisco 49ers QB | 157 Yards, 1 TD |
| Super Bowl XV | Jim Plunkett, Oakland Raiders QB | 251 Yards, 3 TDs |
| Super Bowl XIV | Terry Bradshaw, Pittsburgh Steelers QB | 309 Yards, 2 TDs |
| Super Bowl XIII | Terry Bradshaw, Pittsburgh Steelers QB | 318 Yards, 4 TDs |
| Super Bowl XII | Harvey Martin & Randy White, DL, Dallas | Defensive Performance |
| Super Bowl XI | Fred Biletnikoff, Oakland Raiders WR | 4 Catches, 79 Yards |
| Super Bowl X | Lynn Swann, Pittsburgh Steelers WR | 4 Catches, 161 Yards, 1 TD |
| Super Bowl IX | Franco Harris, Pittsburgh Steelers RB | 158 Yards, 1 TD |
| Super Bowl VIII | Larry Csonka, Miami Dolphins RB | 145 Yards, 2 TDs |
| Super Bowl VII | Jake Scott, Miami Dolphins S | 2 Interceptions |
| Super Bowl VI | Roger Staubach, Dallas Cowboys QB | 119 Yards, 2 TDs |
| Super Bowl V | Chuck Howley, Dallas Cowboys LB* | 2 Interceptions, 1 FR |
| Super Bowl IV | Len Dawson, Kansas City Chiefs QB | 142 Yards, 1 TD |
| Super Bowl III | Joe Namath, New York Jets QB | 206 Yards |
| Super Bowl II | Bart Starr, Green Bay Packers QB | 202 Yards, 1 TD |
| Super Bowl I | Bart Starr, Green Bay Packers QB | 250 Yards, 2 TD |