Legally Betting On The San Francisco 49ers Odds To Win Super Bowl LVIII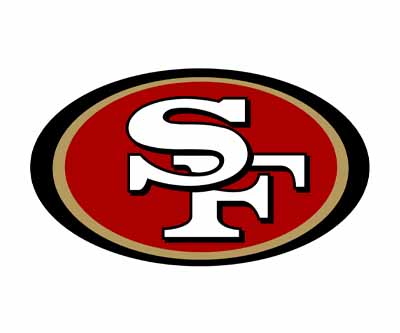 The San Francisco 49ers are members of the NFC West Division and have been the Super Bowl champions five times. Legally betting on the San Francisco 49ers' odds to win Super Bowl LVIII is possible in California and across the entire country if you do business with a reputable sportsbook.
Placing a wager on the 49ers or betting on any NFL team can be done legally using an offshore sportsbook site, no matter where you are in the USA. Keep reading to find out how to bet on 49ers Super Bowl 58 odds and where to find the best online NFL sportsbooks for the year 2023.
Best Super Bowl Betting Sites With 49ers Odds For 2023 - 2024
Bet On NFL Teams At These Trusted Sportsbooks
Current Betting Odds To Win Super Bowl 58
odds via Bovada
Kansas City Chiefs+600
Buffalo Bills+750
Cincinnati Bengals+900
Philadelphia Eagles+900
San Francisco 49ers+800
Dallas Cowboys+1500
Baltimore Ravens+1800
Los Angeles Chargers+2000
Detroit Lions+2500
Green Bay Packers+2500
Jacksonville Jaguars+2500
New York Jets+2500
Los Angeles Rams+3000
Miami Dolphins+3000
Cleveland Browns+3500
Denver Broncos+3500
New Orleans Saints+3500
Las Vegas Raiders+4000
Minnesota Vikings+4000
New York Giants+4000
Pittsburgh Steelers+5000
Carolina Panthers+5500
New England Patriots+5500
Washington Commanders+5500
Seattle Seahawks+6000
Chicago Bears+6500
Tennessee Titans+7000
Atlanta Falcons+7500
Tampa Bay Buccaneers+7500
Arizona Cardinals+15000
Houston Texans+25000
Indianapolis Colts+15000
Is It Legal To Place San Francisco 49ers Bets?
Yes, it is legal to bet on the San Francisco 49ers in the United States. Domestic sportsbooks are legal and available in most US states. Because of the popularity of NFL betting, all of them will include 49ers odds for their regular and postseason games, including the Super Bowl.
49ers Super Bowl odds can also be bet on legally using offshore sportsbook sites like the ones we promote in this guide. There are no US or state laws that prohibit international Super Bowl betting sites from accepting stateside members and allowing them to gamble on 49ers odds.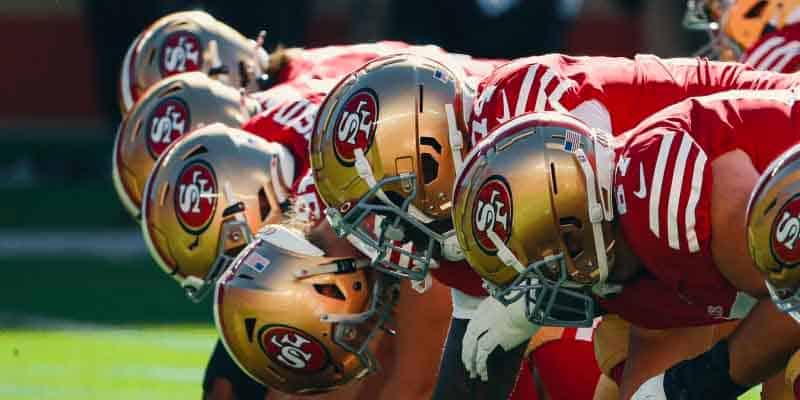 Options For Betting On The San Francisco 49ers
In the following sections, we detail each of the main categories for betting on 49ers odds that will be found at Super Bowl 2023 sportsbooks.
San Francisco 49ers Betting Lines
A betting line in the NFL entails three wagering elements all pulled together – the point spread, over/under, and moneyline odds on each team's chances of winning.
49ers Point Spreads – Spread betting involves handicapping each team by removing points from the favorite and granting points to the underdog. Covering the spread means that the team you bet on either lost by less than or won by more than the margin.
49ers Moneyline Odds – Betting on moneyline odds means that if your team wins, your wager wins. The odds reflect the teams' chances of winning and discloses the amount of money that can be won based on how much was bet.
Over/Under Betting – This represents the total number of combined points that oddsmakers project for both teams to score. Winning bets will correctly wager on the 49ers and their opponent totaling more or less than the over/under odds.
Super Bowl 58 betting lines involving San Francisco cannot be created by oddsmakers until the 49ers have won the NFC Championship Game, but there are often preliminary lines that feature generic AFC vs. NFC matchups.
49ers Betting Futures
Futures odds are betting lines that take action on any of the included teams winning the Super Bowl, conference, or division.
Super Bowl futures betting involves a line that includes all 32 teams and places odds on their chances of winning a championship at the end of that given season. Betting on the 49ers' Super Bowl odds primarily entails wagering on NFL futures unless they win the NFC and earn a trip to the big game.
NFC Championship futures operate identically to Super Bowl futures but only include the 16 teams in the National Football Conference. There are also NFC West futures for betting on the 49ers to win their division and earn a top-four seed in the NFL Playoffs.
49ers Prop Bets
Prop bets in the NFL involve wagering on outcomes that are not projected in the point spread, over/under or futures. These include player and team stats but can take action on events that occur on the sidelines, in the stands, or inside the broadcast booth.
Each February, Super Bowl prop bets are produced en masse at online sportsbook sites. Because of the series of unique components that are a part of the Super Bowl broadcast, prop bets are created for each one of them. For example, wagers can be placed on coin toss props, National Anthem odds, and even on Super Bowl commercials.
Live 49ers Betting Lines
Once the kickoff to any San Francisco game occurs, betting on the 49ers continues with in-play odds that remain active through the fourth quarter. In-game NFL betting is offered on all 49ers games, taking action on the point spread, moneyline winner odds, and the over/under as long as the contest doesn't get out of hand.
All of the online 2023 Super Bowl sportsbooks listed here allow their 49ers game lines to become live after the clock starts running. In-play lines are usually featured upon entry to the sportsbook section of the site, but some books feature dedicated live betting sections to house their in-game NFL odds.
49ers Betting Apps
If you want to bet on the 49ers using your smartphone or tablet, it can be easily accomplished by clicking the link to any of the Super Bowl sportsbooks listed on this page. Mobile Super Bowl betting apps offer the exact same lines, odds, futures, and props that are featured on the desktop gambling site.
Apple and Android screens of all sizes are filled with the latest 49ers Super Bowl odds, with touch-button navigational controls that allow for single-finger gambling while the other hand can hold the remote control or a tasty beverage.
San Francisco 49ers Super Bowl 58 Betting FAQs
Yes, but only if you use an offshore sportsbook site. Domestic sports gambling is not legal in California, so betting on the San Francisco 49ers requires joining one of the international Super Bowl betting sites that we endorse here at LSBB.
The last time the Lombardi Trophy was hoisted by the 49ers, they covered the largest Super Bowl point spread ever issued (18 points) when they beat the San Diego Chargers by a final score of 49-26 in 1995 (Super Bowl XXIX/29).
The 2022 NFC Championship Game featured a rematch between division rivals when the 49ers and LA Rams faced off for the third time that season. San Francisco won the first two meetings but could not win the third, even though their fans seemed to outnumber LA's at SoFi Stadium. 
NFC Championship Betting Line: Rams vs. 49ers Odds
Spread: Rams -3.5, 49ers +3.5
Moneyline: Rams -180, 49ers +155
Over/Under: 45.5
The Green Bay Packers and San Francisco 49ers met in the divisional round of the NFL Playoffs in 2022. San Francisco beat the Packers by a final score of 13-10, dispatching the #1 overall seed in the NFC and covering the spread.
Green Bay Packers vs. San Francisco 49ers Betting Line
Spread: Packers -5.5, 49ers +5.5
Moneyline: Packers -250, 49ers +210
Over/Under: 47.5